---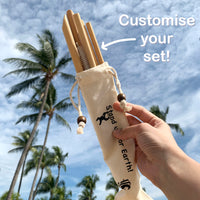 Customise your set according to your drink preferences!
All orders will be packed in a linen or batik (random print) pouch with a straw cleaning brush. Pouches will be randomly allocated based on stock availability.
These alternative straws are the only 100% from-nature option in drinking straws! They are handmade from whole bamboo. Earth-loving and very kid-friendly - perfect for smoothies!

Why bamboo?
Bamboo straws are the only 100% all-natural reusable alternative to nasty plastic straws. Stainless steel straws have a higher carbon footprint and require more resources to produce. Bamboo is a renewable material that already grows in a hollow shape. 
Maintenance 
Simply wash under a tap after everyday use. Use a straw cleaning brush for a more thorough clean. Bamboo straws can also be boiled to sterilise. Use an electric kettle, fill a container or tray with boiling water and soak the bamboo straw for 1 minute, then air dry.
We do not recommend dishwashers as this is an all-natural product.