---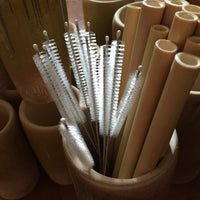 We have standardised our cleaning brush to be one-size-fits-all. They will fit all straws large or small (thanks to softer bristles!)
Shoutout to all ye clean freaks! These straw cleaners easily clean the insides of your reusable bamboo straw and will keep them sip-happy for a long time more!
Our straws are meticulously handmade and smoothened inside and out. This ensures that they are easy to clean even without the use of any tools.
Check out the "Straw Care" link in the main website page if you prefer a plastic-free / natural cleaning method. But if a little straw cleaner helps you along on a conversion to reusable straws, why not! We're sure you'll use it along with your all-natural straw for a long time to come.