---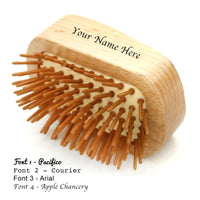 Great for detangling! Plastic-free hairbrush made from beechwood, with bamboo pins and rubber base pad.
1. Choose the font you would like
2. Decide on your message or name - Maximum of 10 characters
3. Place your order early as engraving orders are batch processed to keep costs low for you! Lead time 2-4 weeks. For urgent orders, contact bamboostrawgirl@gmail.com
This handheld hairbrush is suitable for those with thick tangly hair and thin, fragile hair strands. The bamboo pins are straight, without a round bulb at the end, to be gentler on hair strands especially when detangling. 
No more tangles!
Size: 6.3 cm width, 9.3 cm length
If you're trying out "no-poo" or going chemical free with shampoo, it's important to brush your hair regularly in order to spread out the natural oils secreted by your glands.